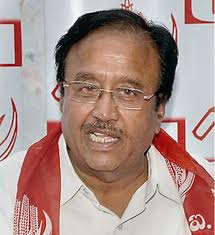 After a gap of nearly 25 years, a Telugu man has taken over the reins of Communist Party of India (CPI). Suravaram Sudhakar Reddy, a two-term MP from Nalgonda, has been elevated to the post of General Secretary, replacing the octogenarian leader A B Bardhan. Chandra Rajeswara Rao was the only leader from the state who held this coveted post in the past, though AP has been a major catchment area forcommunist ideology.
The change of guard was effected at the party congress which concluded in Patna on Saturday. A quintessential backroom boy, Suravaram's elevation was on the cards ever since he was made the Deputy General Secretary in 2008.
Known for his mild demeanour, this communist veteran, however, can be brutally candid when it comes to analyzing the organizational problems and political strategies. His fellow communist travelers regard him as a committed ideologue who can also be a pragmatic leader, flexible enough to guide the party in the changed political context. In fact, his anointment may well signal the party's shift from rigid dogma to pragmatic politics.
Born on March 25, 1942 at Kondravpally in Mahaboobnagar district, Suravaram had a humble beginning in rural Telangana. He went to school in the neighbouring Kurnool district and finished his schooling from Coles memorial High school at kurnool. Later, he completed BA in History, Economics & Politics from Osmania College and obtained Law Degree from Osmania University's College of Law in Hyderabad.
Drawn towards communist ideals early in his life, Suravaram displayed leadership skills during his college days and became the General Secretary of the Law College before joining the ranks of All India Students' Federation (AISF), a springboard for a career in left politics.
Suravaram went on to become the secretary of the state CPI council. He was first elected to Lok Sabha in 1998 from Nalgonda, a constituency he represented for two terms. He also dabbled in journalism and served as the Chairman of the Editorial Board of Visalandhra Vignana Samithi which publishes, among other things, Visalandhra, a Telugu daily.
After getting into the CPI national secretariat in 2002, his rise in the party hierarchy was swift by communist party's glacial standards and soon became the second-in-command, surpassing the likes of Gurudas Dasgupta and D Raja.
His wife B V Vijayalakshmi had left her banking career to join CPI and is now a member of the party's national council. The couple has two sons.