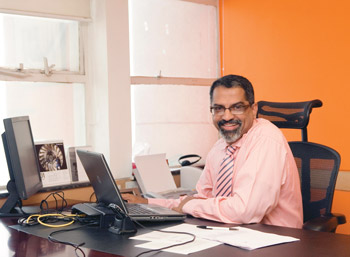 A very few journalists from Andhra Pradesh have been able to rise to international stature and Raju Narisetti, who has been recently appointed as Digital Network managing editor and the deputy managing editor of The Wall Street Journal, is one such rare professional from our state.
Narisetti, a student of Osmania University, currently serves as The Washington Post managing editor where he oversees the company's digital content products, staff and strategy.  The appointment marks a return to the Journal for Narisetti, who first joined the paper in 1994 as a reporter in Pittsburgh and most recently served as Editor of The Wall Street Journal Europe in 2006.
Raju is the son of well-known writer and humanist Innaiah Narisetti, who was born in Patha Reddi Palem village in Chebrolu Panchayat, Tenali Taluka of Guntur district. Raju's mother is Venigalla Komala, a professor of English who retired from Ambedkar Open University, Hyderabad.
Dow Jones editor-in-chief Robert Thomson said, "Raju has done remarkable work as the digital czar at the Washington Post, integrating print and online businesses, building a successful web site, and developing key relationships with the digerati. His experience in creating Mint, a national web site and newspaper in India, also brings important relationships and unique expertise that will assist us as we expand our global digital network. Raju is wired, and we are jazzed."
Born in 1966, Narisetti has been a journalist for over 22 years, and has spent most of his work life at the Wall Street Journal in US and Europe. In his earlier stint at the Journal, he was editor of its European edition and also served as deputy managing editor of its US edition.
Narisetti began his life in India, and after his journalism studies went on to do his masters in journalism from Indiana University in the US in 1991. Between 2006-2008, Narisetti was the editor of Mint, India's newest and fastest growing business newspaper.
Raju Narisetti was named a Young Global Leader by the World Economic Forum in 2007. His wife, Kim Barrington Narisetti, is a former journalist who co-founded Urban Crayon Press, which publishes children's books and family-friendly travel guides. They are parents of two daughters.
In an interview to www.career360.com, Raju Narisetti was critical of journalism standards in India. "The biggest problem in India still is that journalism education is so terrible," he said.