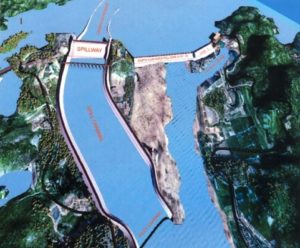 This is the document published by the Government of Andhra Pradesh with details on Polavaram Project.
Indira Sagar (Polavaram) project is located on river Godavari near Ramayyapet village of Polavaram Mandal of West Godavari district in Andhra Pradesh. The project is multipurpose major terminal reservoir project on river Godavari for development of Irrigation, Hydropower and drinking water facilities to East Godavari, Vishakhapatnam, West Godavari and Krishna districts of Andhra Pradesh.
The project will provide irrigation to 2.91 Lakh Hectares(CCA) and hydropower with installed capacity of 960 MW apart from 23.44 TMC (663.7 MCM) drinking and industrial water supply to Vishakhapatnam township and steel plant and diversion of 80 TMC waters to river Krishna.
The ultimate irrigation potential of the project is 4.368 lakh ha and annual power generation will be 2369.43 million units. In addition, 540 villages will also be provided with drinking water facilities in the command area.
Click below for details: