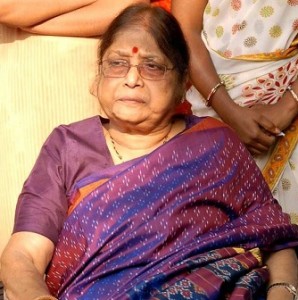 Smt Akkineni Annapurna, wife of thespian Akkineni Nageswara Rao, passed away on Wednesday. She was 79. Annapurna Studios, one of the leading studios in India, was named after her.
Annapurna hailed from a wealthy family and chose to marry ANR, who at the time, did not have a great status as an actor. ANR always said that it was to the credit of Annapurna that she convinced her parents and family to be his wife.
Annapurna is the matriarch of Akkineni family which now boasts of being one of the most influential and respected families of Indian film industry. The family of actors now includes Nagarjuna, his brother Venkat who is a producer, Sumant and Sushant, both Annapurna's grandchildren and the latest entrant Naga Chaitanya. Amala Akkineni, her daughter-in-law, was an actress and Supriya, another grand-daughter is an executive producer.
The latest film produced on Annapurna banner is Rajanna.
Akkineni Annapurna & ANR with Extended Family Photo (courtesy Ayaskantam)