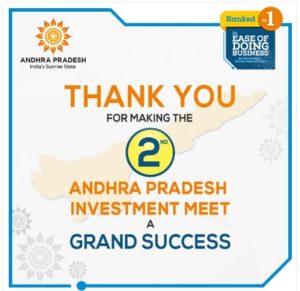 Contrary to general skepticism about the CII Partnership Summit being held in Vizag for the second consecutive year, the response has been impressive. The amount of investments that are expected to flow into the state as a result of the MoUs entered into this year is more than double of what was got last year.
Chief Minister Chandrababu Naidu told the media at the end of the Summit that the AP Government and different companies had signed 665 MoUs entailing a total investment of Rs 10.5 lakh crores, generating 22 lakh new jobs. "During the CII summit last year, 328 MoUs were signed entailing investment of Rs 4.67 lakh crores in the State. It is a huge success from the State's point of view. We will now pursue all the projects and get them grounded as soon as possible," he said.
More than 2,000 delegates from all over the country and abroad attended the summit and deliberated upon important issues relating to the Indian economy and global economy.
He said the PSU oil companies such as the ONGC, the HPCL, and the GAIl were investing huge sums of money in the State, making it the petro hub of the country. In the other sectors, too, agreements had been signed for major projects. "From now on, we will be after you to start work on the projects," he told the industrialists assembled at the venue.
Out of Rs 4.67 lakh crore worth of MoUs that were signed in the previous summit, a total of 328 projects with a potential employment for close to 1 million people were already committed, according to the chief minister. Of these, 38 units have gone into production with an investment of Rs 52,987 crore and 6 units are into trial production, he said.
The conversion rate stands at 48% in terms of number of projects and 42% in terms of investment. Remaining projects too were at various stages of implementation, according to Naidu.
"2 days have been short but big business have come from
#
CIIPS2017
I am thankful to the people for showing great confidence", Chandrababu Naidu tweeted.