Telugu media – especially several junk websites claiming to be political experts – have come with an 'expose' that Chief Minister Chandrababu Naidu was not on the invited list but 'bought an entry pass' to Davos.
Several of these sites, more than sympathetic to Jagan Mohan Reddy and YSR CP, came up added masala to this twisted report by saying that the AP delegation actually rented out a lounge and pretended to carry out business meetings with several industry bigwigs.
These were obviously lapped up by the opposition YSR Congress Party.
If it were true, these reports and the media publishing them deserve a Pulitzer or two for unearthing a scam of gigantic proportions.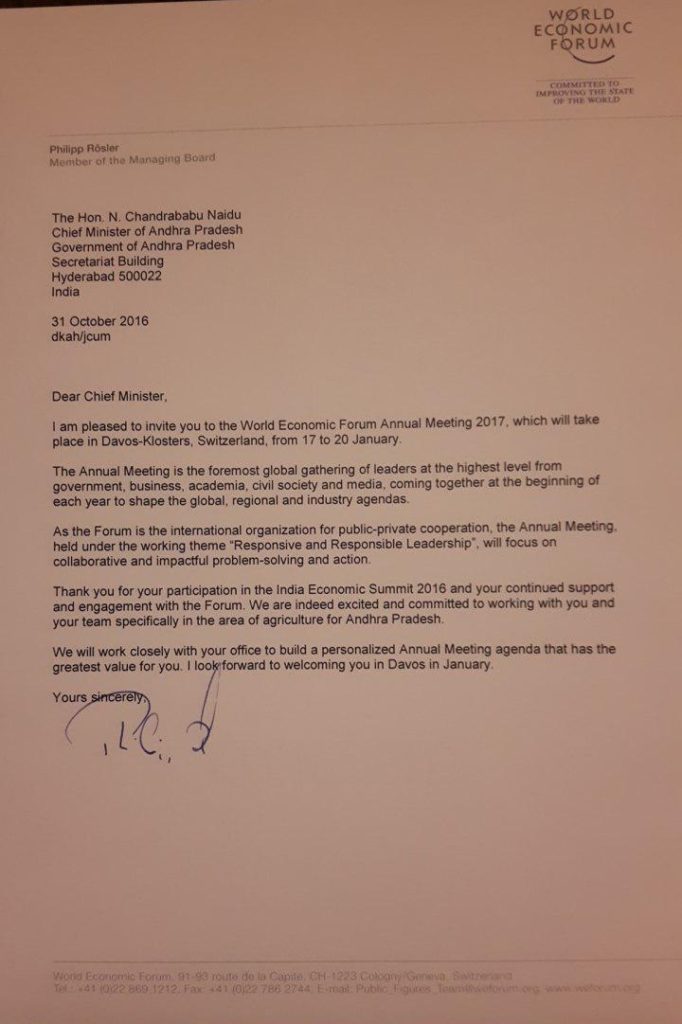 But blind hatred seems to have driven these 'investigative journalists' to their reports with invented facts and blatant lies.
Every participant to the Davos meet is an invitee. In any case, it is no big deal for a person of Chandrababu Naidu's stature to get an invite as Chief Minister of a State. More on this here.
The State Government has released the invite to show that Naidu was formally invited to Davos 2016 as long back as in October 2016.
Click here for Davos Session structure.
A debate on whether CM"s trip is worthwhile or not is certainly desirable. But what is unfortunate is this trend for coming up with some sensational scoop against the CM without an iota of truth.
Besides political motives, this trivilasation is also partly due to the fact that most of those claiming to be journalists have little or no understanding of what transpires at international business gatherings like Davos.