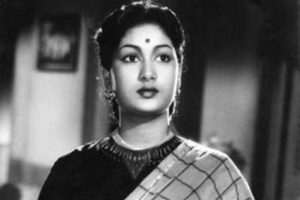 No real life story of any Telugu actor/actress has ever been made on screen till date. Even though, Telugu has had a long and chequered film history who pioneered the medium in the language producing great film personalities, sadly there has been no serious attempt at making authentic biopics.
One recent attempt was the film on Raghupati Venkiah, a poineer in film making in South India. Senior Naresh essayed the role, but the film has not seen the light of the day, probably due to lack of financial viability.
Now, there is news that a biopic on the queen of histrionics in Telugu and Tamil cinema, Savitri, is in the offing. It is heartening to note that the film will be from the veteran producer Ashwini Dutt's stable. His daughter Swapna, who earlier produced critically acclaimed Evade Subrahmanyam is all set to make the film on the great actress.
The upcoming South Indian actress Keerthi Suresh will be essaying the role of Savitri. Keerthi hails from a Malayalam-Tamil parentage and grew up in Chennai. She has acted in several Tamil, Malayalam and Telugu films. In the recent past, she acted in Nenu Sailaja and Nenu Local Telugu films, and is also set to pair with Pawan Kalyan in 2017.
The news of the film on Savitri was announced by none other than Ashwini Dutt himself. He also revealed that Samantha also will be playing another important character in the film.
"I don't know where from my daughter will bring in actors to play NTR, ANR, SVR, Gemeni Ganesan for this film," he fondly wondered. It will indeed be a defining movie for Telugu, Tamil industries as and when made.