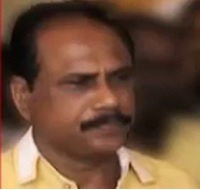 Finally, Balakrishna had to get rid of his personal assistant Sekhar, who has been taking care of his constituency affairs in Hindupur, Ananthapur district.
There has been a lot of discontent over the high-handed behaviour of Sekhar, leading to internal dissensions in the constituency. So much so that Section 144 had to be imposed on Monday even as the two groups were getting ready for a face-off in public.
Alarmed at the developments, Chief Minister Chandrababu Naidu, Balakrishna and Lokesh discussed the issue on Monday, and decided to remove Sekhar as his assistant in the constituency.
'It is not easy to bring everybody on the same page, given the earlier scenario. Today also, we discussed the issue. CM wanted us to ensure there is unity. Everything will be all right,' Balakrishna said today.
Balakrsihna had earlier said as a party known for its discipline, TDP would not tolerate such public spats.