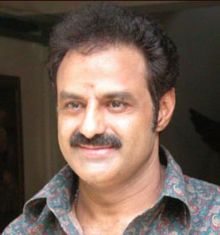 Balakrishna is like a child, says Chiranjeevi. Asked about recent statements of Balakrishna during Vijayawada tour, Chiranjeevi dismissed Balakrishna's criticism against him, saying that there was no need to  bother about the 'childish' comments.
Balakrishna had remarked that Chiranjeevi, who could not sustain his party, was now busy requesting for portfolios in the cabinet for his people.
Chiranjeevi, who came to Vizag to participate in the MLAs tour organized by the Speaker Manohar at Araku, did not react to Balakrishna's political criticism. We don't take a child's remarks very seriously, do we?," he said.
Earlier too, when Balayya was reported to have made adverse comments against Ram Charan Teja over Telugu film makers vis a vis other directors, Chiru did not react. Balayya later clarified that his remarks were not targeted at Ram Charan.
Meanwhile, Chiru hoped that Ganta Srinivasa Rao, who was elected from Visakha as MLA, would be inducted into Kiran ministry by 19th of this month.