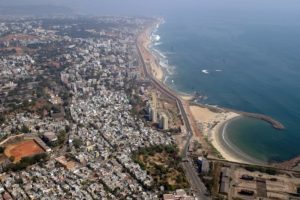 The much hyped Beach Love Festival in Vizag has been scrapped following widespread criticism against the event. The festival was to be held from February 12 to 14 on the eve of Valentines Day. Human Resources Minister Ganta Srinivasa Rao on Wednesday announced that the Festival was scrapped.
The festival was proposed by Positive Global Services and Consultancy Pvt. Ltd. of Mumbai. The organisation had experience in holding such a festival in Goa in which allegedly bikini-clad women have participated with blaring music and dance. Pop Diva Shakira was also reportedly set to perform at the event.
Local reports said the event was to host 9,000 couples from across the globe. The Vizag Beach Festival was to be organized by Department of Youth Affairs, Tourism Department, and Visakhapatnam Urban Development Authority.
Both the YSR Congress Party and the BJP raked up a controversy over the event, which they described as obscene and against the local culture. The communists too joined the protests, along with several women's organisation.
The State Government apparently buckled down under the pressure, and decided against the event. Sakshi newspaper, as usual, claimed the credit for the scrapping of the festival!
However, the State Government is going ahead with Visakha Utsav set for January 28-30 to coincide with CII Partnership Summit in Vizag.