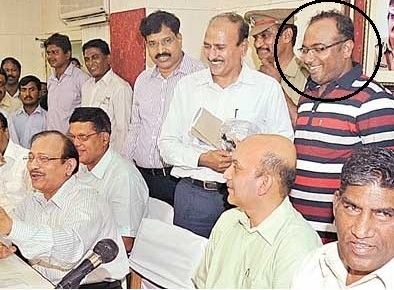 Despite CID DG Ramana Murthy's clarification, doubts still persist over Bhanu Kiran's arrest. Cops claimed that the Suri murder accused was caught at Jaheerabad on Saturday morning while he was going to Hyderabad. However, not many were convinced with the police version.
For one, Bhanu Kiran did not seem to be like a criminal taken by surprise. Nor was he depressed at being caught unawares. In fact, he looked very relaxed in police custody. He did not have any signs of a tired man on the run. He was all smiles throughout the media conference.
No wonder there are theories doing the rounds that Bhanu Kiran gave himself up to the police and that he surrendered days before.
While the truth might come out one day, Bhanu Kiran meanwhile did not exhibit any signs of stress over the police custody and interrogation. Bhanu probably is comfortable in the knowledge that his crimes could be nailed only with the implication of some big names, including political and filmy personalities.
Though there are as many as 15 cases against him, Bhanu's role in Suri's murder is what the cops will have prove in the court. Going by Bhanu's body language at the press meet, he has an air of assurance about him that belies police hopes of nailing him.