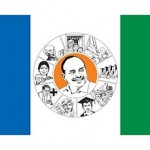 "Send this msg to 15 others and you will get a refill of Rs 500" is apparently the sms that is doing rounds in parts of the state. YSR Congress Party claims that the party has nothing to do with this message and that it was intended to damage Jagan with the Election Commission.
In a clarification, the party convener PNV Prasad said that neither the YSR Congress Party nor the Kovur candidate Prasanna Kumar Reddy  involved with this message. He alleged that it was a mischievous attempt by TDP to sully the reputation of the party.
The SMS also reportedly asked users to watch Sakshi TV for more details. Prasad said that the party would formally lodge a complaint with the Election Commission on this issue.