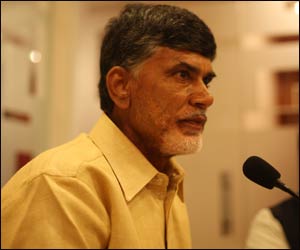 In a major relief to Telugu Desam Party president N Chandrababu Naidu, a Division Bench of the Andhra Pradesh High Court, comprising Justice Rohini and Justice Asuthosh Mohata, on Thursday dismissed the petition filed by YSR Congress leader Vijayamma against Chandrababu Naidu and others for CBI inquiry into their alleged illegal assets and other irregularities.
The bench said that the -petition was not maintainable under public interest litigation.
The same bench had on December 13 last year in its interim orders stayed the preliminary probe by the Central Bureau of Investigations into Naidu's alleged disproportionate assets.
Chief Justice Ghulam Mohammed and Justice Nooty Ramamohana Rao had on November 14 directed the CBI, the Enforcement Directorate (ED) and the Securities And Exchange Board of India (SEBI) to investigate the allegations levelled against the former Chief Minister and submit a report within three months in a sealed cover.
The case witnessed several dramatic developments with Vijayamma's lawyers alleging before the court that the TDP was resorting to 'not before' practice to 'fix' the judges and bench. In the course of the hearings, Justice Madan Lokur recused himself, following the implead petition by Reliance Industries, one of the accused parties in the original petition.
Later, Justice Eswaraiah also opted out, as YSR Congress Party as well as their advocates alleged that the judge's family was closely involved in TDP affairs.
Vijayamma alleged that Naidu, with the help of Eenadu Group chairman Ch. Ramoji Rao, defrauded the State exchequer and their actions needed to be investigated.  Vijayamma charged Naidu with committing offences under the Prevention of Corruption Act, the Prevention of Money Laundering Act, the A.P. Land Grabbing Act and the Benami Transactions (prohibition) Act in his "property amassing spree."
The other respondents include the Union Home Ministry, AP government, CBI, ED, State DGP, SEBI, N. Bhuvaneswari, N. Lokesh, Ramoji Rao, Ushodaya Enterprises, Heritage Foods, Ahobala Rao, V. Nagaraja Naidu, Y. Satyanarayana Chowdary, Madhucon Industries, Maganti Rajababu alias Murali Mohan, Karnati Venkateswara Rao and C.M. Ramesh.
The TDP camp understandably went into celebration mode, even as YSR Congress leaders said that they would certainly consider an appeal over HC verdict.