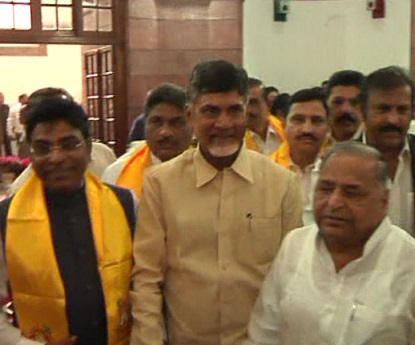 The NTR statue installation function held at Rajya Sabha lobby in Parliament once again proved TDP chief Chandrababu Naidu's stature in national politics. Though it was Purandeswari who organized the event, Chandrababu seems to have stolen the show.
The moment Chandrababu entered, most of the national leaders went near him. All the stalwarts like Manmohan Singh, L K Advani, Mulayam Singh Yadav, Farooq Abdullah, Sharad Yadav and several others shook hands with him. They spent most of their time talking to him or posing for pictures along with him.
Mulayam Singh Yadav, who did not pay much attention to the greetings by Purandeswari, Mohan Babu and others, actually called Chandrababu to shake hands and pose for photographs.
The ceremony clearly established that Chandrababu Naidu, despite the bad patch that he has been undergoing for a long time now, still is a politician who is easily the most recognized politician from Andhra Pradesh.
Contrast this with others such as Daggubati Venkateswara Rao and Purandeswari. NTR's daughter was greeted by some leaders, nobody seems to have recognized the elder son-in-law of late NTR.
The NTR family members including Harikrishna, Balakrishna seems to have realized that Babu, after all, still matters in Delhi.
Jr NTR seemed most uncomfortable in the function, as none of the senior politicians seemed to have bothered to know who he was. No wonder, the actor disappeared from the venue even before the ceremony got wrapped up.