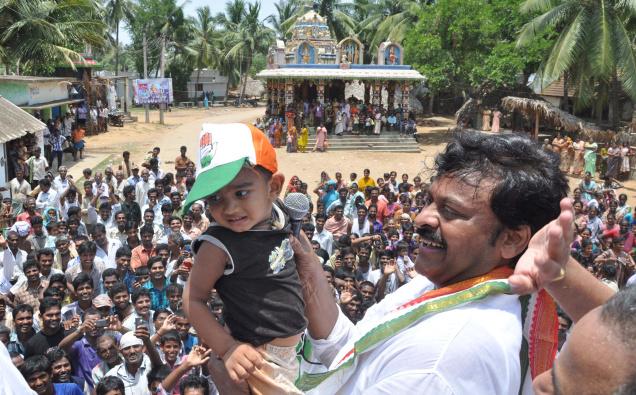 The ongoing by-elections are a make-or-break for the political career of not only Jagan, Chandrababu, Kiran and Botsa but also Chiranjeevi.
Having merged his party with Congress Party, Chiranjeevi is now required to prove that he is indeed an asset to the party electorally, for which he was primarily inducted. His political future in Congress at this juncture will be proportionate to his proven ability to garner votes.
No wonder, Chiranjeevi is sweating it out in the current campaign for the by-polls. He is being seen everywhere in the campaign, making an enthusiastic attempt at influencing voters. His oratorical skills have improved, he is less diffident and he is more direct in his attack of his political opponents.
Chiru is mincing no words against Jagan Mohan Reddy in his speeches. Unlike in the past, the actor-turned-politician has been displaying new found aggression in his criticism. In the latest round of campaign where he is accompanied by Chief Minister Kiran Kumar Reddy and Congress state affairs in-charge Gulam Nabi Azad, the Rajya Sabha Member has been making longish speeches and making conscious efforts to turn the voters against Jagan's alleged political misdemeanor.
The seasoned star had announced earlier that he was taking responsibility to ensure victory for Congress candidates in at least 5 seats. That's a tall order given that the ruling party has been going through a rough patch in terms of voter preference. But Chiru seems to have deliberately put himself to a test, as he is confident of good following in many of the constituencies going for votes.
For example, Chiru's PRP had secured substantial votes – Allagadda- 61,555, – Payakaraopet – 49,105,  Ramachandrapuram – 52,558,  Polavaram – 43,433 , Narsapuram – 41,235 , Ongole – 33,247 , Prathipadu – 33,868  and Anantapur Urban  – 28,261 – in 2009 Assembly polls. In some seats like Allagadda, the local candidates might have had a big role to play, but in many others, it is Chiru's image and his community that seems to have solidly stood by him.
If Chiranjeevi can indeed pull off a sizable share of these votes in favour of Congress, he would indeed make a difference to the party's fortunes in the by-elections. Any boost from his side at this crucial time would cement his position within the Congress Party in Delhi. It is in the backdrop that Chiru is toiling hard in the scorching sun.
If Congress fails to make any difference in the ensuing by-polls as it did in Kadapa earlier, Chiranjeevi will be as much a loser as Kiran and Botsa in the immediate future.