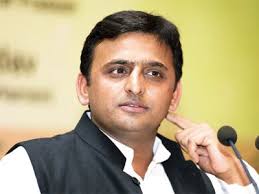 Samajwadi Party Chief Mulayam Singh Yadav on Friday expelled Uttar Pradesh Chief Minister Akhilesh Yadav and party leader Ram Gopal Yadav from party for six years. The surprise move came in the backdrop of wracking internal dissensions within the party.
The Uttar Pradesh assembly elections are due in less than six months.
Mulayam also said that Akhilesh would not be the CM candidate in the forthcoming elections, and that he would announce the name of the chief ministerial condidate.
"This party is more important to me than my son or my brother. Akhilesh is completely being misled by Ram Gopal. The party will go to dogs if it were to continue to be in their hands," he said.
The infighting got worse when Akhilesh Yadav on Thursday released his own list of 235 candidates for the upcoming Assembly elections. This was a day after his father and party supremo Mulayam had released the official list.
The party chief rejected the names proposed by Akhilesh and ruled him out as party's chief ministerial candidate. Ateeq Ahmad, Rampal Yadav, Amanmani Tripathi, Shadab Fatima, Narad Roy, OP Singh whom Mulayam selected find no mention in Akhilesh's list.
As many as 10 ministers, including Shivpal, sacked by the chief minister Akhilesh over the past few months have got tickets.