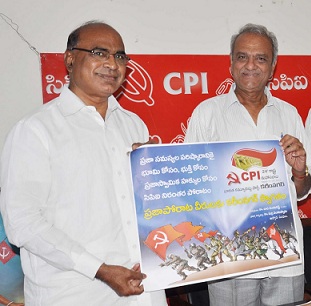 As was widely expected, CPI has decided to throw its weight, whatever it is worth, behind TRS in the coming by-polls. A powerful section from Telangana within CPI has been advocating an alliance with TRS for sometime now, and this section strongly feels that the party would benefit immensely by sailing with TRS in future.
Several hopefuls within CPI are eying seats in Telagnana region for 2014 elections, and they have been pushing a tie-up with TRS for sometime now. An example Chada Venkata Reddy, the CPI floor leader in the Assembly, who believes that he can return in 2014, if TRS were to leave the seat to him.
The by-elections have come as a golden opportunity to cement the alliance for the next general elections, though officially the party claims that this understanding was 'only for the by-elections'.
The CPI of course has its explanation ready. The party is supporting TRS because it is pro-Telangana. It is not in a position to support CPM, which is fielding its candidates in Telangana, because the Marxists are not in favour of division of the state.
Narayana, CPI state secretary, explained that the party would extend support to CPM candidate in Kovur 'for strengthening unity of the communists'.
CPI's decision effectively means that the party has snapped ties with TDP for good. There is a strong thinking in the party that TDP does not have great chances electorally in the near future.
CPI is not averse to align with YSR Congress too, just like its new-found ally TRS. It is no secret in political circles that TRS has an informal understanding with Jagan. The communists too may fall in line, though the ongoing CBI case remains a major obstacle for the time being for the CPI to take a firm decision on this issue.
Hence, it is assuming a 'wait and watch' approach as far as YSR Congress is concerned.