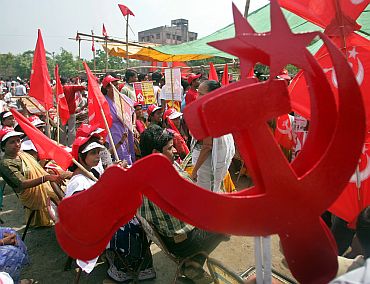 Political parties cannot function without funding and the communist parties are no exception. However, they are not known to mobilize funds on a large scale like the other parties, which make no bones about collections.
Now CPM has been accused of collecting large sums of money from small traders to big industrialists for its forthcoming state-level meeting.
Deputy Speaker Mallu Bhatti Vikramarka alleged that the CPM cadres have been extorting money from all and sundry in the name of their meeting. "The CPM, which claims to be a party representing the poor and the oppressed, has raised Rs 25 crores through so-called donations," he lambasted.
The CPM is organizing a three-day state-level meet – 23rd since its inception – in Khammam from Feb 2 to 4.
The communist parties used to have loyal donors among various sections, especially former communists-turned-businessmen, who always came forward to fund the parties. But with their political base shrinking considerably in the state, both CPI and CPM are finding it difficult to finance their activities.
The clout of these parties  is now limited to very few pockets in the state, such as Khammam, Nalgonda and Krishna district. This means that the left parties have been forced to adopt more aggressive methods to get donations.
Which is what Mallu Bhatti Vikramarka, who hails from Khammam, is apparently referring to.
Meanwhile, in his series of interviews to the media on the occasion, CPM state secretary BV Raghavulu claimed that the party was neither friends nor enemies with TDP. Interestingly, Raghavulu did not rule out the possibility of working with YSR Congress or TRS in future.