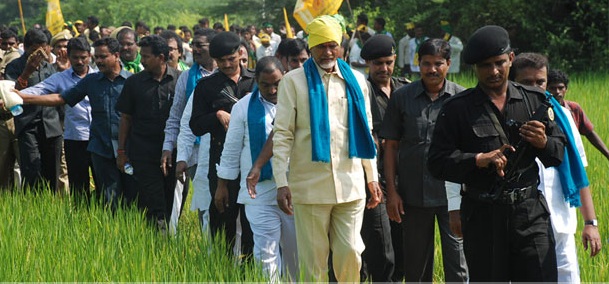 Frustrated with Chandrababu's continuing visit despite its all out efforts to stop the TDP program in Warangal, a desperate TRS has once again resorted to provocative language. Etela Rajender, TRS MLA, tried to pit Telangana sentiments against Andhra, alleging Andhra goondas are beating up 'Telangana sons'. He specifically referred to Kodela Sivaprasad and Karanam Balaram as leading the attack on 'Telangana children'.
TRS moblized all its forces including the JACs and various associations to stop Babu's tour in its tracks. Though it was successful to some extent as Babu convoy faced stone throwing by young people at several places, the party could not make TDP retreat.
In the backdrop, Rajender called for a press meet even Chandrababu was to launch his padayatra from Lakshmakkapalli. The idea obviously is to provoke the raw emotions of the people and ensure that Chandrababu's visit is somehow is marred before it could be completed.
Rajender called the TDP leaders Andhra Razakars and said that Chandrababu's visit will stall formation of Telangana. He said TDP was going for its program fully armed and with an intention to attack Telangana people.
The TRS leader minced no words in inciting the Telagnana people against allowing Chandrababu visit, comparing it as a fight on the lines of Telangana armed struggle.
The more TDP makes of its tour in Warangal, the more vicious seems to be TRS attack against the yellow band. TRS is still making its last ditch effort to turn the visit a 'failure'. It is still early to predict how Babu's contentious political yatra will end.