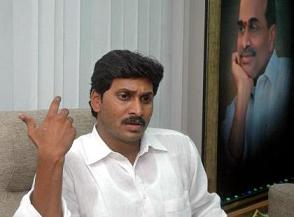 What are YSR Congress Party leader Jagan Mohan Reddy's educational qualifications? The question pops up in the backdrop of the controversy raised over Lokesh's academic background.
Jagan's degree is rarely mentioned, but his educational qualification was given as B.Com in his biodata on Lok Sabha Members.
Curiously however, Jagan claimed to have been an MBA graduate in one of his business papers submitted to the government authorities. His MBA was used as  supporting facts for approval to pay Jagan a remuneration to the tune of Rs 10 lakhs a month and as justification for his appointment as Managing Director of Sandur Power Project.
"Mr Jagan Mohan Reddy is a young, energetic MBA graduate," the document says as justification for appointment.
His MBA was mentioned a second time in the same document, saying "Shri Jagan Mohan Reddy is a postgraduate in business.."
However, there is no proof to show that Jagan had either pursued or completed his MBA degree. Under 'the highest educational qualification' column in his 2011 election affidavit, Jagan mentioned 'Bachelor of Commerce, Pragati Maha Vidyalaya, Osmania Unversity, Hyderabad – completion year 1994'.
Interestingly, he was described in this 2006 document as having, "specialized knowledge in Project Finance, sourcing and availing funds at lowest cost. Has good rapport with Government agencies that enable him to obtain statutory approvals/licenses/permissions etc with regard to projects on the anvil".
Here is the document that claims Jagan being an MBA. The document forms part of the Extract of the Minutes of the Meeting of the Board of Directors of the Company held on the 28th January, 2006 at the Registered Office of the Company at No.84, 16th Cross, 14th Main, IV Sector, HSR Layout, Bangalore – 560034