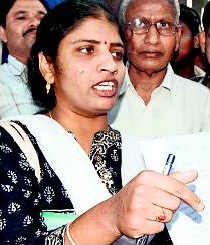 Remember DSP Nalini, who claimed she had resigned from her post in support of the demand for separate Telangana or as a protest against 'Seemandhra police bosses'? She has now joined the ranks of all those who 'sacrificed' for Telangana by announcing her decision to contest as an independent candidate for Assembly.
Nalini, who also sat in a dharna in Delhi for Telangana after her resignation, is all set to field herself as a candidate for the by-election in Parakala in Warangal district. Parakala is the only seat in Telangana which will go to elections along with 17 other by-polls to be held in Andhra and Rayalaseema.
It is not yet clear whether Konda Surekha, who will contest from here as YSR Congress Party candidate, will have the support of TRS and JAC.
Nalini, however, said that the TRS, CPI, BJP and New Democracy should extend their support to her since she 'sacrificed' her 'high post' for Telangana. She also revealed that she would approach JAC chairman Kodandaram for support to her candidature.
It would be interesting to watch how TRS would react to this development.