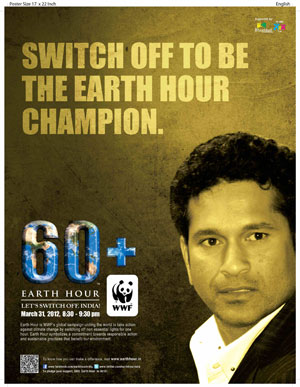 By Ramesh Kandula
Earth Hour has become an annual farce with many dubious supporters rallying for the cause. In Hyderabad, people have been called upon to switch off their lights from 8.30 pm to 9.30 pm on Saturday to express their solidarity for the cause of environment.
This cause gets liberal help by the elite classes everywhere, and sections of media try to get mileage by associating with this yearly drama. TV9 created some theater around it on Saturday night with a few actors and celebrities – from actor Rana to Singer Sunitha – sharing the spotlight on the occasion.
The whole thing has turned into such a serious tamasha that nobody seems to question the premise behind the celebrity cause.
The concern might make some sense for Western countries which have been using energy left and right. But Earth Hour in India? It is a big joke considering that we have earth hours every day of the year in our state, which is true for many other states in our country.
Has TV9 heard of load shedding? Every day, power cuts are a reality of life for people here, the shutdowns extending from a minimum of two hours in cities and towns up to six hours a day in villages. And consider the fact that we don't use power even for our bare needs, forget about using luxurious gadgets including air conditioners and all kinds of electronic gadgets.
While the power consumption globally is 306 watts per person, that of India is a pathetic 57 watts. The US average per capita consumption of power is 1363 watts, while our neighbor China boasts of 389 watts per person. We are in the company of countries like Kenya, Bolivia and Bangladesh in power consumption.
In such a pathetic power situation, is it not a cruel joke to play on helpless people to call upon them to observe Earth Hour to avoid overuse of energy? We don't have energy for our basic needs. In the sweltering heat of the summer, people will have to sweat it out for hours together because they don't have access even to fans, forget about air-conditioning.
For all those celebrities who never experience power cuts (because they always have alternative expensive arrangements), which are a way of life for most of the people, it might be a romantic experience to spend an hour of evening without lights. But for the ordinary mortals in this country, it is a daily routine.
So, please don't' give lectures on Earth Hour and the need to conserve energy. The rich countries exhausted most of the energy sources by now, and are still burning it like hell. Leave the poor people of this poor country from Earth Hour rituals. In any case, they have been doing it for eons now, not because of the fashionable Earth Hour but despite it.
What our champions of social cause need to do is demand assured power supply to our farmers so that their crops are not lost; to our small and medium enterprises so that our productivity remains unaffected and workers are not out of jobs; and  to our poor boys and girls so that they get to study for their exams in this summer.
PS: Governor ESL Narasimhan is reported to have taken a fancy to the Earth Hour, inspired by our celebrity activists. He ordered all the staff living in Raj Bhavan quarters to switch off lights. Time to extend power cuts to Raj Bhavan, so that the Governor can have Earth Hour nights every day!