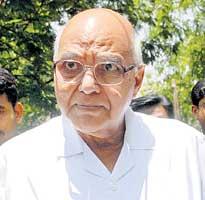 Eenadu has officially announced divesting of its television channel business, even as Sakshi saw a vindication of its allegations of quid pro quo between Ramoji-Relaince-Chandrababu in the entire operation.
The Wednesday edition of Eenadu said that 100 per cent stake of 10 ETV channels – except Telugu ETV and ETV2- will now be transferred to Reliance Industries Limited, in lieu of its 40 per cent stake in Ushodaya Enterprises.
In Telugu ETV and ETV2,  which is news channel, Ramoji Rao will have 51 per cent controlling stake, while 49 per cent will be with Reliance.
Reliance in turn is selling its interest in these channels to TV18 network, as mentioned in the earlier post.
Sakshi, however, cried foul over the business deal. The report reiterated once again that Mukesh Ambani invested in Ushodaya Enterprises through Nimesh Kampani for the benefits extended by Chandrababu to Reliance in KG Basin. It maybe recalled that YSR's cases against Margadarsi resulted in RBI ordering the company to refund all the deposits worth Rs 2,600 crore.
For investing in Ramoji Group, Nimesh Kampani was hounded by YSR government, who had to take refuge in Dubai to avoid a arrest warrant issued by YSR government.
Sakshi report could not digest the fact that the valuation that Ramoji's channels received through this deal. It questioned the value of the companies and why Reliance was paying so much for so little. Sakshi also alleged that if cases against Ramoji in courts were proved, he would have to pay Rs 7,700 crores as fine, and hence his businesses are not safe, it concluded.