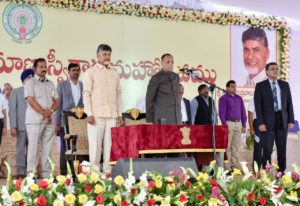 Two MLCs and nine MLAs have been inducted into the Chandrababu Naidu cabinet today at a swearing in ceremony in Velagapudi Secretariat complex.
Nara Lokesh and Somireddy Chandramohan Reddy are the two MLCs who made it to the council of ministers.
As many as four MLAs, who defected from YSR Congress Part found a berth in the cabinet. They are Adinarayana Reddy (Jammalamadugu), Bhuma Akhila Priya (Allagadda), Sujaya Krishna Ranga Rao (Bobbili) and M Amaranath Reddy (Palamaneru).
The newbies, including Lokesh and Akhila Priya, were uncomfortable reading the oath of office. Governor Narasimhan was seen congratulating him. Later, on the suggestion of Chandrababu, Lokesh touched the feet of the Governor as a mark of respect.

The others who took oath are Kimidi Kala Venkata Rao, Nakka Ananda Babu, Kothapalli Samuel Jawahar, Pithani Satyanarayana and Kalva Srinivasulu.
The ministers who lost their seat in the cabinet are Palle Raghunatha Reddy, Kimidi Mrunalini, Peethala Sujatha, Ravela Kishore Babu and Bojjala Gopalakrishna Reddy. Of these, Bojjala resigned to his MLA position in an apparent protest against his removal.
Palle, who had as many as five ministries, including IT, Minorities, I&PR and Culture, had to vacate to accommodate Kalva Srinivasulu from the same district. Ravela was seen as being abrasive, and was replaced Nakka Ananda Babu. Mrunalini had to give way to her close relative Kala Venkata Rao. Peethala was replaced for her ineffectiveness by K S Jawahar.