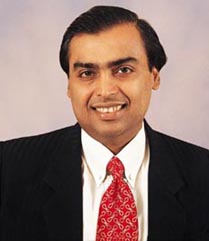 The Reliance-Ramoji-TV18 deal continues to baffle observers as several questions emerge from this deal which has politics, business and media in varying measures.
Media analysts see the 'the marriage between RIL-Network18/TV18 and Ramoji Rao' as 'one between a largely pro-Congress duo and a distinctly non-Congress one'.
While Relaince Mukesh Ambani and TV18 Raghav Behl are seen as pro-Congress, Ramoji is known for anti-Congress stand. Ramoji Rao's troubles which led to substantial sections of his ETV network getting out of his grasp and into RIL's, are largely because of his consistently anti-Congress stance.
While Ramoji Rao may get over his financial troubles with the deal, a lot many questions remain unanswered. Mukesh, India's richest businessman becomes India's biggest media baron with control over at least two dozen English and regional news and business channels with the latest deal.
No one really knows whether the Kampani-Ambani investment in ETV was worth Rs 2,100 crore at which TV18 picked up the stake.
Following the latest deal, Mukesh  will have direct and indirect control over three of the five major English news channels (CNN-IBN, NewsX and NDTV 24×7), three business channels (CNBC-TV18, IBN Awaaz, NDTV Profit), and at least five Hindi news channels, according to reports.
The nagging question whether the ETV network is really worth so much, especially when Ushodaya's most profitable parts, Eenadu and Priya Foods, are out of it refuses to go away.
Mukesh Ambani's hold over a wide network of channels is also being seen as a great help for Congress with which he is perceived as aligned in the 2014 elections.