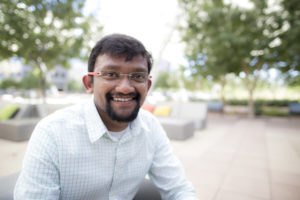 A Telugu Vivek Kopparthi has been selected by Forbes as one of the 600 of the brightest young entrepreneurs, breakout talents and change agents in 20 different sectors.The 27-year-old Vivek, a double Masters of Science from Arizona State University and Anna University, describes himself as 'Engineer, Business Grad, Entrepreneur and a warrior in the game of life'.
Vivek Kopparthi is the co-founder of Neolight, a health sector start-up in the US. NeoLight is a lean medical device company that develops empathy-driven and best in-class technology for newborn health conditions. The company has come out with a phototherapy device that would save infants from jaundice.
According to Forbes, "Worldwide, jaundice is responsible for 50% of hospital readmissions for newborns and 10 infant deaths per hour. The treatment: exposure to light from a special flourescent bulb. But that usually happens in the hospital. NeoLight has developed a phototherapy device that is portable for use at home. The company is also working on a second tool to treat infant hypothermia."
Honored to be a part of the @Forbes 30 under 30 healthcare list! Such a great start to the year! #30under30#yesphxhttps://t.co/TvzbMQQBS7

— Vivek Kopparthi (@vivek6174) January 3, 2017
Over 30 Indian-origin innovators, entrepreneurs and leaders have been featured in the 2017 edition of Forbes' list of super achievers under the age of 30 who seek to break the status quo and transform the world.
Vivek had his schooling and college education in Chennai. He appears to be familiar with Telugu movies. This is his Facebook post from his student days (2012):