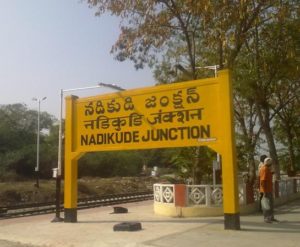 The much-delayed Nadikudi-Srikalahasti line is at last witnessing movement. Railway Minister Suresh Prabhu today laid the foundation for the works on the line. While Prabhu did the honours from Delhi by remotely unveiling a plaque at Piduguralla, Chief Minister Chandrababu Naidu and several Ministers were present on the occasion.
Apart from catering to the needs of people of upland areas and interior mandals in Chittoor, Nellore, Prakasam and Guntur districts, the Nadikudi-Srikalahasti line is expected to give a big boost to cement and granite exports.
The 309-km line will connect Srikalahasti, Venkatagiri, Rapur, Obulayapalli, Podili, Darsi, Gundlakamma, Vinukonda, Rompicherla, Nakerakal and Nadikudi.
Prabhu also inaugurated Visakha-Tirupati Double Decker Rail, Wi-Fi facility in Guntur Railway Station and a route relay interlocking system in Vijayawada.
JV to build rail projects
Andhra Pradesh Government also signed memorandum of understanding with the Indian Railways for setting up a joint venture company for taking up major rail projects in the state.
While many new railway lines will be built by the JV, the main objective is to develop at least 21 railway stations in the state akin to airports.