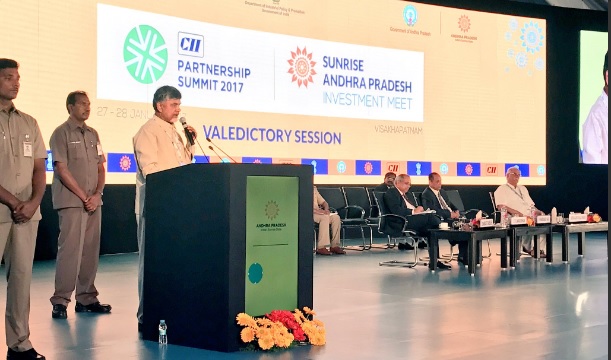 Chief Minister Chandrababu Naidu took exception to the media not taking cognizance of the hard work being done by the State Government.
Referring to the tremendous response the CII Partnership Summit at Vizag received in terms of investments, Naidu said the media tried to hype up what happened before the Summit. He is obviously referring to the hyped up protest at RK beach in the city demanding Special Category Status.
"I am working like No.1 Coolie only for the benefit of the state. Not for a job for my son or my grandson," he said wryly.
Rejecting the arguments of the proponents of SCS, Naidu said the states that enjoyed SCS cannot compare with Andhra Pradesh in development. "There is no other Chief Minister who is senior to me. I know what is best for the state. I would not stand moot if the state did not get its due," he said.
Stating that all the world was looking at Visakhapatnam and its development, he said, however, some people are bent on spoiling the atmosphere. He paid rich compliments to the people of Vizag who had always cooperated with the Government in its efforts for development.