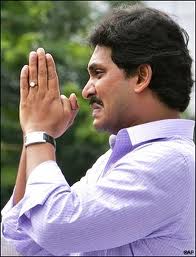 Jagan had self-doubts about his proposed party and its success. He almost believed that he would most likely go into political oblivion, following his differences with Congress Party. But his inner voice told him to go ahead and that proved right, said the YSR Congress Party on the occasion of the first anniversary of his party.
Speaking at his party headquarters in Hyderabad, Jagan said he was advised by many well-wishers that he would not be able to fight against the Congress Party. "I was told that it was not easy to go against Congress Party.
Many people said TDP was entrenched in all sections of people. I was even warned that my election symbol would not be recognized by people in a short of time of 14 days. But I heeded my heart and not my  head, and people loved me for that," Jagan said.
Jagan hinted at the CBI investigation and the financial squeeze saying  he was going through tough times. But the response of the people got him going, he added.
You would expect a large crowd at the party office when Jagan was hoisting the flag for the first anniversary. But the party did not seem to have made any effort to organize people for the occasion.  Not even the ex-MLAs, who were disqualified recently, showed up. That is Jagan style; he is not bothered about such political formalities.