Actor and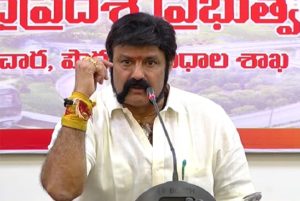 MLA Balakrishna said that he knew where to start and how to end the proposed biographical film on late N T Rama Rao. Speaking to reporters in Vijayawada today, Balakrishna said he was assaying the role of NTR, though the director for the film was yet to be finalised.
There has been curiosity as to how Balakrishna proposes to show the life and times of NTR, the actor and NTR, the TDP founder. While NTR's career in films may be depicted with some certitude, there are questions as to how NTR's last days would be presented.
Already, Lakshmi Parvathi raised issues over the film's intentions, seeking to know how the August crisis in which NTR was ousted by his son-in-law would be presented on screen. She also made her stand clear saying she would protest if Chandrababu Naidu were to be shown in positive light in the episode.
Balakrishna on making NTR film
Vijayawada MLA B Umamaheswara Rao had already said that since Lakshm Parvathi played a negative role in NTR's life, the film also will depict her in the same light.
Meanwhile, Balakrishna said that a team was looking into all aspects of NTR's life for the proposed film. 'We will bring out little known facts about NTR in this film,' he said.