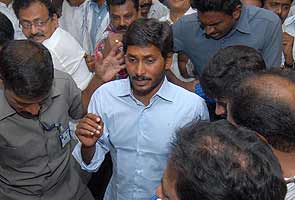 Jagan Mohan Reddy, who was arrested by CBI on Sunday in disproportionate assets case, has been sent to judicial custody till June 11 by the Nampally CBI court on Monday. He joins the other VIP guests at Chanchalguda Jail such as Matrix Prasad.
His mother Vijayamma, who was observing a sit-in protest at their Lotus Pond residence against the arrest, was tearful on learning of the court decision.
The 14-day remand will mean that he will not be able to campaign for the June 12 by-elections.
The day-long proceedings at the court witnessed tense moments as the Nampally court complex burst at seams with lawyers, officials and the accused since morning. The bail petition of Jagan was rejected by the court after prolonged arguments on either side. Jagan was represented by senior lawyers from Delhi Ram Jethmalani and Sushil Kumar.
Senior CBI counsel Ashok Bhan alleged that YSR Congress chief Jaganmohan Reddy resorted to hawala operations to turn his black money into white. "Jagan never cooperated in the investigation during the three-day questioning period in true sense," the CBI counsel alleged.
Jagan disputed CBI's claim that he did not cooperate CBI questioning, saying he  had answered all queries. He said he did not reply to questions which were not related to him. The court, however, felt that Jagan could influence the investigation process, if he were to be let out.
Investments to the tune of Rs 1234 crore were made in Jagan companies and he himself got enriched by Rs 300 crore, the CBI counsel said.
The court, however, refused CBI application for sending Jagan to its custody for further questioning.