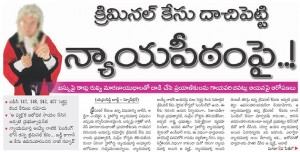 Y S Rajasekhara  Reddy was accused of abusing every institution in this state and subverting it to serve his political interests. His son Jagan Mohan Reddy appears to have gone one step ahead. He wants to blackmail every Constitutional body and make it submit to his whim. And that too without being in power!
Sakshi's 'expose' on Tuesday about a High Court Justice is pure blackmail and is intended not only at tarnishing the image of an individual judge but also aimed at warning other judges not to meddle with Jagan's interests – even in the portals of justice.
The so-called investigative piece of journalism is a sham and an exercise in malignity of the worst kind.
The motivated piece is obviously targeted at Justice Ramana of Andhra Pradesh High Court. Why was he singled out?  Not because he is involved in any of the ongoing cases against Chandrababu Naidu or Jagan.
He was targeted just because he was perceived as being close to TDP during his lawyer days. Even the 4-column calumny against him does not say anywhere that he had compromised in any of the cases that the Judge had heard and decided.
What are the 'facts' doled out by Sakshi and what are its tendentious and malicious conclusions? It says that the Justice in question was named in a case when he was a student at Andhra University. From the description, it is evident that it is part of a student agitation. The case registered in 1981, like millions of other petty cases in this country, dragged for close to two decades.
Clearly there was no investigation, nor was there any charge-sheet. Finally, when a year-and-a-half after he was appointed as the Judge of the AP High Court, the case was withdrawn through a GO of the government in 2001. A local court took up the case and suo moto withdrew the case, according to Sakshi report.
Now, look at how Sakshi goes about its conclusions. The Judge in question, the report repeatedly states, has 'criminal track record' which he deliberately hid from Supreme Court. He was never, by Sakshi's own report, convicted by any court. If he was mentioned as 'accused number 4' in a petty case of stone throwing at RTC buses which could not be investigated for more than 20 years, that is sufficient for Jagan and his blackmail paper to hit below the belt.
The dangerous part of the whole thing is how a patently frivolous matter was insidiously used to brazenly blackmail a sitting Judge of the High Court without the least fear of contempt of court.
This whole exercise of terrorizing in the garb of journalism, which is completely out of context or without any immediate provocation, has indeed lot of thought put behind it. Jagan's case against Chandrababu Naidu is before a bench consisting of Justice Rohini and Justice Ashutosh Mohanta.
The verdict in the case is yet to be pronounced. Justice Rohini belongs to Andhra Pradesh. The mischeivous piece against Justice Ramana is intended to serve as a warning to this bench not to go against Jagan's interests.
Failing which, his paper will indulge in the most blatantly defamatory, despicable and scandalous writings to undermine the integrity of the judges concerned. Jagan showed his darker side when his paper directly attacked Justice Eswaraiah in the same case. He is now issuing a clear and present warning to the Judges once again. Fall in line or else..!