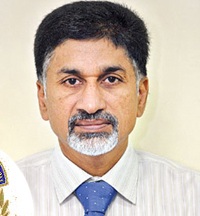 Venumbakam Vijaya Sai Reddy has been advising YS family since the days of YS Raja Reddy and is variously described as the kingpin behind Jagan's rapid ascent as a businessman. Sai Reddy who practiced as auditor till recently in Chennai later shifted base to supervise Jagan's affairs full-time.
CBI is said to have found incriminating evidence of the role played by Vijaya Sai Reddy in organizing shell companies to raise funds for various ventures floated by Jagan in a very short period of time. The flow of money to Sandur Power and investments in Jagathi Publications were all reportedly managed by the shrewd and savvy auditor.
At a personal level, Vijaya Sai Reddy is known as a self-effacing, genial and personable character. CBI will have to find out as to what benefits did the advisor receive for his services.
All through the CBI cases and almost daily interrogation, Vijaya Sai Reddy has been the lone crusader defending Jagan's honour legally. He filed a case against CBI in Supreme Court which was dismissed. He impleaded himself in the case filed by Smt Vijaya, Jagan's mother, against Chandrababu Naidu in High Court, which is still to be decided.
Just a week back, Vijaya Sai Reddy dashed off a letter to the Commissioner of Income Tax (II) Fakir Mohan Mohanty, asking him to 'recuse' himself from the ongoing assessments of Jagati Publications Private Limited (JPPL).
Reportedly, on payment of 25 crore by Jagati Publications Private Limited (JPPL) towards taxes, the then IT Commissioner (Mohanty's predecessor) H Srinivasulu granted what is called Stay of Demand in IT parlance. However, Mohanty took up a review on the Stay on Demand.
Apparently, Vijaya Sai Reddy was suspecting that the IT official was bent on digging deeper.
It will be interesting to watch now as to who can fill the able and committed shoes of Vijaya Sai Reddy to advise Jagan on varius legal and finance matter that are likely to come up for scrutiny. Given CBI's mood now, Vijaya Sai Reddy is likely to be  confined to jail for a longer time than Jagan would like.