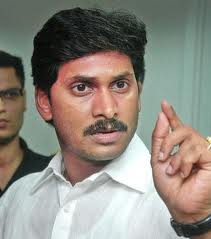 Jagan Mohan Reddy, for whom the late YSR is the only 'maha neta', feels that NTR was the only other leader to think of the poor. The YSR Congress chief who ended his 48-hour fast  to highlight the problems of handloom sector in Dharmavaram on Tuesday evening, said that only NTR, before YSR, did something for the good of the handloom workers in the state through his 'janata fabrics' scheme.
Castigating Chandrababu Naidu for being 'insensitive' to the needs of handloom workers during his regime, Jagan said that YSR had to pay exgratia to those who committed suicide during the TDP rule. Naidu who came to power by backstabbing NTR discontinued the janata scheme leaving the handloom sector in distress.
Jagan also took diatribe against the state and central governments for ignoring and neglecting the problems of handloom weavers in the state. He claimed that as many as 15 weavers had killed themselves due to penury in Dharmavaram alone and said there was nobody in the government was concerned with these issues.