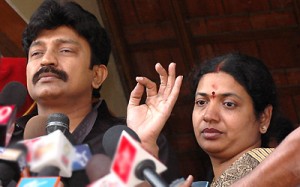 The Jeevitha-Rajasekhar couple are in doldrums. Their ambitious foray into politics ended in a disaster. Now what is left of their romance with politics is a defamation case, which might cost the filmy couple very dear.
Jeevitha-Rajasekhar developed a good rapport with late YSR when the latter was CM. Their malicious attack against Chiranjeevi and his PRP just before 2009 elections brought the couple lot of media glare. Congress jumped up at the opportunity and admitted them into their party.
They had a field day lashing against Chiranjeevi and his blood bank during this period, even bringing doctors and patients who claimed they were cheated by Chiranjeevi Blood Bank.
However, when things were getting rosy for them in the government, YSR was dead in an accident. They were brought into the Congress by Ambati Rambabu, who by that time joined Jagan group.Chiranjeevi was getting closer to the ruling party.
Having no clue about Congress politics, they chose to go along with Ambati advice to support Jagan and his new party.
However, soon they realised how tough it was to sail with a maverick and upcoming politician like Jagan Mohan Reddy. They came out of YSR Congress Party, and made overtures to TDP and even met Chandrababu Naidu. Telugu Desam did not show too much of interest.
Now, left to fend for themselves, the couple are facing rough weather. Their film career is not doing too well either. The favours they expected from YSR government did not materialize. Now, they are stuck with a Rs 10 crore defamation case slapped by Allu Aravind.
Sources say the case is very strong and the couple might find it difficult to get out of the legal tangle any time soon.