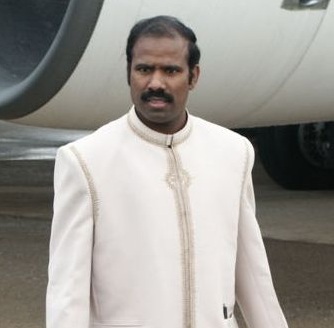 Controversial evangelist K A Paul was arrested in the early hours of today by Ongole police in connection with his brother David Raju's murder case. Paul was in Ongole to campaign for his Praja Shanti Party, whose candidate is in the fray in the local by-election.
According to the police, Paul was arrested with two others for conspiring to abduct and murder his associate Koteshwara Rao, who he feared might expose some details about the murder of his brother in Mahabubngar two years back. The police also said that Paul had offered one crore rupees to Inspector of Ongole Taluka police station and gave advance of Rs 3 lakhs to assist in the crime. His offer was recorded using spy camera by the police.
Paul and his brother David Raju had developed difference over properties of GUM City on the outskirts of Hyderabad. With Rajasekhara Reddy government bent on giving a hard time to Paul, the maverick evangelist was pushed into a corner with several cases slapped against him. David Raju, with the help of authorities, was in control of the properties.
But when David Raju was found killed in his Innova two years back, Paul was not a suspect and the police, in fact, took Raju's family members into custody on suspicion. Meanwhile, Paul has been making desperate attempts to regain his lost glory in the aftermath of YSR's death. In the ensuing by-polls, he fielded his candidates in some seats, mainly targeting Jagan, whose hold on dalit and Christian votes Paul was trying to break.
It is not clear how and why the police suddenly found evidence against Paul in his brother's murder case. There is also confusion whether Paul is being arrested on murder charge or on conspiracy to murder his associate Koteswara Rao.
But the arrest is most likely to seal the fate of K A Paul, whose mercurial rise in the evangelical world was only matched by his subsequent steep fall from public grace.