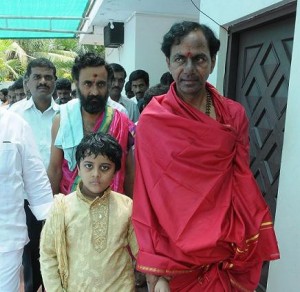 TRS chief KCR has always an air of self-assurance about him. He seems to have an uncanny understanding of not only the other political parties but also of various other outfits playing a role in power politics. It is probably this clarity that made Kalvakuntla Chandrasekhar Rao to spend some 'quality time' at his newly acquired farm house in his native district on the eve of December 9.
While JAC leaders and TRS Party was officially organizing and participating in various protest meetings over the non-implementation of December 9 announcement, KCR was away from all the hustle and bustle of rallies and demonstrations.
The reason, observers say, is that KCR does not believe in these symbolic protests which yield little. Besides, leaders like Prof Kodandaram can at best keep the pot boiling, but are not upto the task of political management,which is what KCR is presently clued in.
KCR is very sure of making a mincemeat of the rest of the parties in 2014 elections, when he expects to play the role of kingmaker. The political environment in Telangana is very favourable to TRS and it is better to keep it that way instead of frittering away all energies in street fights.
It is enough to stoke the feelings for Telangana once in a while without being too aggressive is KCR's strategy for now. Meanwhile, the rest of the parties and groups in Telangana will lose all steam, leaving the entire political space to TRS. It is this thinking that seems to be behind KCR bieng 'cool' these days.
KCR might be right that one cannot stretch people's patience for too long over agitations. The latest example is the protest meet organized by Kavitha of Telangana Jagruti at Gun Park in which Kodandaram spoke. There was hardly a crowd which responded to the call.