The hopefuls for ministerial berths apart, Chief Minister Kiran Kumar Reddy himself sorely wants a recast of his cabinet. But he is not in a position to go ahead with the party high command not very confident about his capabilities to tide over the resultant political uncertainty.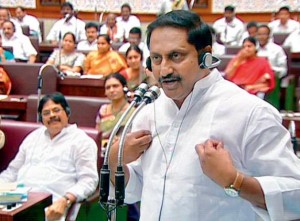 If Kiran were to have his way, he would prefer not to have Bocha Satyanarayana, the PCC chief who is also continuing as Minister for Transport,  the Health Minister D L Ravindra Reddy, and of course Textiles Ministers Shankar Rao.
While Sattibabu has been openly projecting himself as a challenger to Kiran with an eye on the CM's seat, Ravindra Reddy has been mincing no words against the Chief Miniser's style of functioning. Bocha has been holding two posts against the party policy and that has only given him more political space to maneuver against the CM.
The irrepressible Shankar Rao has been causing lot of embarrassment to Kiran and most of his cabinet colleagues, who reportedly demanded the Contonment MLA's removal from the government.
However, Kiran has not been granted green signal by the Congress Party leadership for a cabinet reshuffle at this juncture. The imminent by-polls in the state has also put paid to his plans, as the party leadership does not want to upset the applecart on the eve of by-elections.
Hence, whether Kiran likes it or not, he has to work with the present set of Ministers, who still harbor reservations against accepting the young Chief Minister as their undisputed leader.
It is in this backdrop that the Chiranjeevi's group also cannot be accommodated in the ministry for the next few months. However, Chiru himself is likely to be absorbed in the central cabinet. His Tirupati seat will then be clubbed with other constituencies going for by-polls probably in March-April next year.