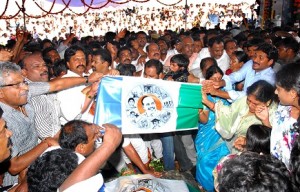 Despite all the bravado of CM Kiran Kumar Reddy, the ruling Congress Party still dreads at the prospect of elections anywhere in the state. As the much-delayed decision on disqualification of MLAs loyal to Jagan gets further postponed, Kiran's credibility ratings seem to be falling by the day.
The 17 Congress MLAs who openly defied the party whip – tired of the ruling party's delaying tactics – have now declared that they would come to Assembly wearing YSR Congress kanduvas and demand the Speaker that they be seated in the House as a separate group. Such a move in the Assembly commencing from Monday would further expose the moral, legal and political bankruptcy of the ruling Congress Party.
Sources say that though the Speaker Nadendla Manohar is all ready with his decision on the disqualification issue, he was not being allowed to go ahead for fear of expected electoral reverses. The ruling Congress Party, after months of dillydallying on the issue, is still not confident of facing elections in these 17 seats.
Hence the ruling party is avoiding the by-polls by flexing its crude political power. But the more delay the ruling party resorts to, the more damage is likely to be done to Kiran's credibility.