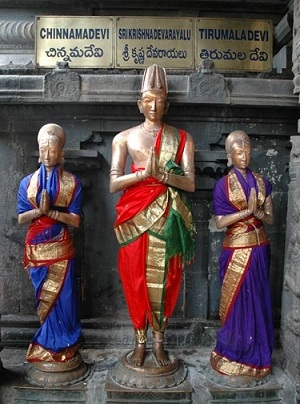 What happened to all the gold ornaments, jewels and other precious offerings made to Lord Sri Venkateswara at Tirumala by Vijayanagara emperor Sri Krishnadevaraya?
The question pops up in the backdrop of the report of the expert committee which revealed that the present jewellery in the custody of Tirumala Tirupati Devasthanams (TTD) did not match those reportedly donated by the Vijayanagara Emperor.
Archaeology department's expert committee that went into the issue of offerings made by Sri Krishnadevaraya to Lord Sri Venkateswara at Tirumala has recently submitted its report.
The committee was set up  in response to a petition filed by a whistle-blower from Eluru, B.K.S.R. Iyyangar under the Right to Information Act.
Replying to the petitioner, P. Chenna Reddy, Director, Archaeology Department observed, "No ornament tallied with any of the ornaments donated by the great Vijayanagara King Sri Krishnadevaraya to the Lord Sri Venkateswara as described in the inscriptions engraved on the walls of the Lord Venkateswara temple at Tirumala."
"As the ornaments did not tally with the Krishnadevaraya's donations, the question of preservation and conservation of the ornaments does not arise".
As per the inscriptions, Sri Krishnadevaraya, a staunch devotee of Lord Sri Venkateswara, had visited the shrine seven times during his lifetime and made a range of precious offerings to the Lord during his every visit. All these were mentioned in detail in various inscriptions.
But now, TTD presently has no clue of those offerings, except a copper statue of Sri Krishnadevaraya along with his consorts Tirumala Devi and Chinnadevi paying obeisance to the Lord was presented during his sixth visit on 16-10-1518.
So was the copper left alone and all gold ornaments and precious jewelry gone missing?