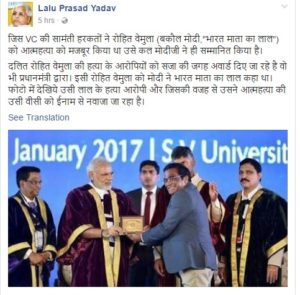 RJD chief Lalu Prasad Yadav took to Facebook to criticise Prime Minister Narendra Modi for felicitating Hyderabad Central Univeristy Vice-Chancellor Prof Appa Rao Podile at the ongoing Indian Science Congress at Tirupati.
Modi is honouring a person who is accused of abetting the suicide of the Dalit scholar Rohit Vemula, who he called son of India earlier, Lalu said in his post.
The VC was in the eye of a storm following suicide by Dalit scholar Rohith Vemula last year.
Prof Appa Rao Tuesday received an award for outstanding contribution in the field of bio-tech and higher education from the Prime Minister. Rao was conferred with the 'Millennium Plaques of Honour' at the Indian Science Congress along with several scientists who were awarded for their contribution in the field of science.
Meanwhile, some students of Central University too objected to Prof Appa Rao being awarded by the Prime Minister. Some of them alleged that Chief Minister Chandrababu Naidu was behind the honour to Prof Appa Rao.
The allegation is apparently due to the fact that Prof Appa Rao belongs to the same community as the Chief Minister.