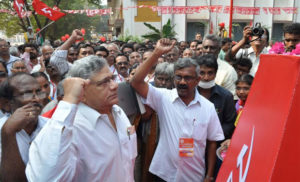 The communist parties in Andhra Pradesh – the CPI and the CPM – are known to piggyback a mainstream party for survival. After their dubious role in bifurcation process, both the parties were left in the lurch in Telangana as well as Andhra Pradesh, having been completely wiped out from the electoral scene.
After 2014, the CPI and the CPM in AP have been sailing with YSR Congress Party in fighting against Chandrababu Naidu Government. The CPM especially has been vigorous in its association with Jagan Mohan Reddy. However, they made little impact in the last two years in the state.
Now, they seem to have found a ray of hope in Pawan Kalyan and his Janasena Party. Though both ridiculed Pawan Kalyan earlier in view of his association with BJP and the TDP, they are presently warming up to him in the backdrop of the latest developments.
Pawan has been vociferous in finger pointing at BJP and TDP for their failure to get Special Category Status to AP. He now seems to have taken a stand against both the parties in power. Also, Pawan has also been consistently nice in his references to the communists in the state.
CPM's B V Raghavulu, CPI's K Ramakrishna have announced that they would like to work along with Pawan Kalyan against the TDP Government. It seems to be their last hope to make a mark in a state, where they have almost become irrelevant.
But given their proclivity to side the right candidate at the wrong time or support the right cause at the wrong time, it is difficult any revival of fortunes for the leftists in Andhra Pradesh.