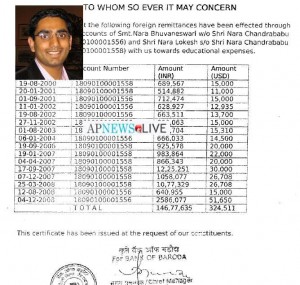 AP News Live exclusive
YSR Congress Party Honorary President Smt Vijaya in her petition against TDP Chief N Chandrababu Naidu had made several allegations about his son Nara Lokesh. One of the charges relates to Lokesh's educational expenses in the US.
Smt Vijaya made this specific allegation in the petition:
"Another unanswered question was the funding of huge educational and living expenses amounting to USD 240000 of Sri.Lokesh which were not reflected in the Income Tax records of any of his family including Sri.Naidu."
Lokesh did his MS and later MBA from two prestigious universities in the US – Carnegie Mellon and Stanford between the years 2000 and 2008. The allegation was that the expenses were paid by beneficiaries of Chandrababu Naidu government, the insinuation being that the disgraced Satyam chairman Ramalinga Raju footed the bill.
AP News Live has in its possession a copy of the statement provided by Bank of Baroda about the foreign remittances made into the bank accounts towards Lokesh's expenses in the US. And remember you are reading this first on AP News Live!
The statement by the Jubilee Hills branch of Bank of Baroda gives details of the remittances made by Smt Bhuvaneswari into Lokesh's account towards his stay and fees in the US during the period between 19-08-2000 to 04-12-2008. Interestingly, the amount spent on the US education of Lokesh was substantially more than what Smt Vijaya alleged in her petition.
While Lokesh was charged with spending 240,000 US dollars for his educational expenses, the actual funds transferred from his mother's account amounted to 324,511 US dollars. This translates into Rs 146, 77,635 (One crore forty six lakh seventy seven thousand six hundred and thirty five rupees).
The bank statement certified that "the following foreign remittances were effected through the Savings Bank Accounts of Smt Bhuvaneswari w/o Nare Chandrababu Naidu and Shri Lokesh s/o Nara Chandrababu Naidu with us towards educational expenses".
Click the link below for the bank statement that effectively disproves the allegation:
Watch this space for more!