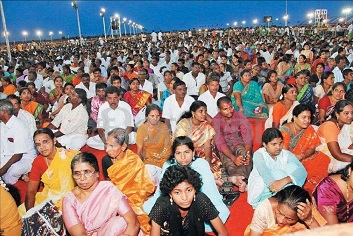 TTD is and has been a milch cow for political and bureaucratic cronies. Those at the helm of TTD indulge in myriad ways to make money in the name of the Lord and under his very eyes.
The latest vigilance report exposes how TTD helps some people to mint money by using the name and tradition of Venkateswara Swamy. The report reveals that the performance of Srinivasa Kalyanam in various cities as a dharmik activity through Hindu Dharma Prachara Parishat was actually misused to garner lakhs of rupees.
TTD conducted Srinivasa Kalyanam in Mumbai in October last year. It was conducted at Shanmukhananda Auditorium. But against TTD rules, the organizers collected Rs 2,000 per devotee to participate in the program. Sri Shanmukhananda Fine Arts & Sangeeth Sabha printed cash receipts for the program.
They collected Rs 75 lakhs per day as entrance fee to watching Srinivas Kalyanam program conducted by TTD. The two-day program fetched them approximately Rs 1.5 crore.
The entire program was recorded by the SVBC Channel.
The Vigilance Department has now recommended taking action against officials who allowed private parties to collect money in the name of TTD.