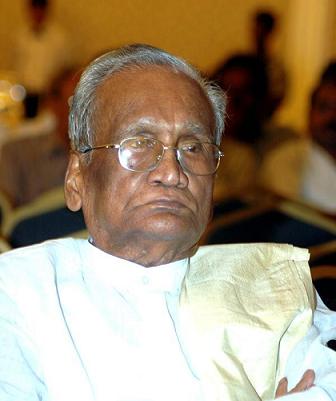 Veteran film maker, producer, director and lyricist Mallemala, who passed away early hours of Sunday at his Film Nagar residence in Hyderabad, is one of the titans of Telugu film industry.
Mallemala Sundara Rami Reddy, popularly known as M.S. Reddy, was born in Andhra Pradesh on August 15, 1924. Born in Nellore, Reddy dabbled in mica business before enteringinto film industry. He entered into film industry by producing his first film Bhaarya under Kaumudi Pictures banner.
Reddy, who produced over 25 films and penned lyrics for most of his films, recently made into news for his controversial autobiography Idee Naa Katha. The book reportedly took potshot at film personalities, both old and new and was later withdrawn apparenlty because of the pressure from the industry.
Reddy was a born poet. He authored thousands of lyrics and traditional and modern poetry. He also was knows as "Sahaja Kavi" because of the simplicity with which he penned the songs.
Reddy has played a key role by supporting the move of Telugu industry from Chennai to Hyderabad. He constructed Sabdalaya recording theatre in Hyderabad.
He introduced NTR Junior with his widely acclaimed film "Ramayanam". The film was made with all-children cast and was a critical and commercial success. Palnanti Yuddham, Srikrishna Vijayam, Ekalavya, Kodenagu, Talambralu, Ahuti and Ankusam are some of his well-known films.
Reddy also played cameos in a few films including in Ankusam where he essayed the role of a Chief Minister. He received the prestigious Raghupathi Venkaiah Award for 2005 for his outstanding contribution to the growth and development of Telugu cinema.