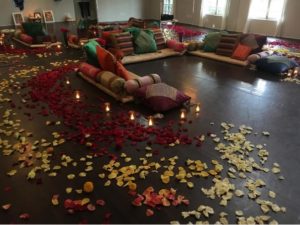 Miley Cyrus chose to have a Hindu prayer and publish pictures on Instagram – for no apparent reason.
The pop star, 24, was seen performing puja at her Malibu home on Sunday.
The pictures showed a room with cushions arranged on mats on the floor which was scattered with flower petals. There were candles in glass jars dotted around and next to the photos she wrote: 'Puja,' – using a Hindu word for a prayer ritual.
She also shared a picture of a close-up of a makeshift shrine consisting of images of gods and holy men with fruit and food in front of it. 'Fruit bowl over Super…..#offering,' she captioned the image.
Among her many tattoos, Miley has several that have meanings in Hinduism. She has a 'karma' finger inking and also the symbol 'Om' inked on the inside of her left wrist.
It is not clear what intended to convey, but her Instagram pics did not exactly please many. "Don't even know who she's praying to. Just doing this to seem Hip!," one comment on UK's Daily Mail website said.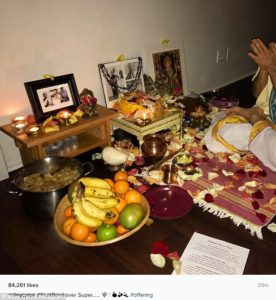 The singer is one those who had said that they would leave the USA if Donald Trump were to be elected as President.
While the Indian media picked up the news in big way, there was nothing much in America over Miley's unusual pics.