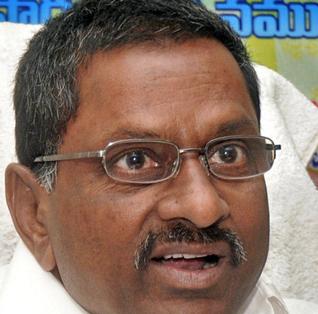 Minister Mopidevi Venkata Ramana, under cloud over allegations of excise kickbacks, is not resigning. Nor will D L Ravindra Reddy, seething with discontent over chopping off his ministerial wings, will put in papers, as was widely reported in the press.
Both the Ministers apparently changed their stand following a meeting with PCC chief Botsa Satyanarayana on Wednesday morning. Sources say that Botsa counseled his colleagues against falling into the trap set up by Chief Minister Kiran Kumar Reddy.
As a result, Mopidevi and DL literally stuck to their positions even while hinting that they are not happy with the CM's clever ploy to get rid of them. Mopidevi rejected all allegations of bribes outright, and said he was ready to resign if the charges were proved right. DL continued his sarcastic commentary on Kiran, pointing out that he would step down only as and when the party high command asked him to do so.
Mopidevi was clearly cut up with the CM for letting ACB include his name in the remand report of arrested liquor syndicate leader Nunna Venkata Ramana. He, however, was not able to respond convincingly to allegations made by TDP leader Varla Ramaiah that the Minister's son got the sole distributorship of a beer brand for AP as a quid pro quo for favours extended by the government.
Meanwhile, Botsa has been able to gain confidence of Ministers who are suspicious of CM Kiran's motives in the latest episode. According to Congress sources, Kiran would have happily accepted the resignations of both Mopidevi and DL Ravindra Reddy, which was averted by the PCC chief in the last minute.
The fact that no other Congress leader's name in Khammam district was mentioned by the accused and except for Mopidevi, all the rest who figured in the so-called syndicate diary are non-Congress leaders has raised suspicion about the integrity of the revelations made in the ACB report.