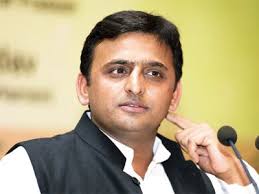 The internal war in Samajwadi Party seems to be blowing over. UP Chief Minister Akhilesh Yadav who was expelled from the party on Friday, was taken back by the party chief Mulayam Singh Yadav.
The decision was announced after the Uttar Pradesh Chief Minister met Mulayam Singh this afternoon at the party chief's residence. The meeting was organised by senior Samajwadi Party leader and cabinet minister Azam Khan. Akhilesh Yadav's close aide Ram Gopal Yadav, who was expelled alongside the chief minister yesterday, has been taken back as well.
Mulayam Singh Yadav had expelled Akhilesh from the party for six years, for refusing to accept the candidates he had chosen for the UP elections.
Akhilesh, according to reports, enjoys the majority MLAs support in the party, and he was preparing to go alone in the next elections, if things fell apart within SP.