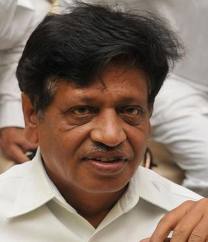 TDP Rajya Sabha MP Mysoora Reddy is moving closer to the Congress Party. Mysoora, who had a running feud with the late YSR in his native Kadapa district, left Congress Party before 2004 elections.
In accordance with the understanding entered into with TDP at the time, Chandrababu Naidu sent him to Rajya Sabha. Mysoora's Rajya Sabha term is coming to an end by this month. TDP has enough strength to send two members to RS, but the indications are that Mysoora is not in the reckoning.
But that is not the only reason for Mysoora to be looking at Congress Party. He has of late developed good rapport with Chief Minister Kiran Kumar Reddy, who reportedly assured any help.
Accordingly, Mysoora's Teja Cements in Kadapa was allotted 660 acres of lime stone mines at Yerraguntla for a period of 30 years by the Kiran government.
Recently, Mysoora threw a party at his residence on the occasion of his nephew's wedding. Most of the invitees to the do were Congress leaders such as Gade Venkata Reddy and Kotagiri Vidyadhara rao, while TDP leaders were conspicuous by their absence.
Mysoora himself has been giving indications of his preferences, but he might take some more time before he formally joins Congress Party.
Interestingly, his son Harshavardhana Reddy has been sailing with YSR Jagan Party.