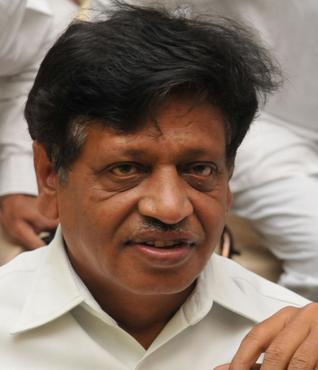 Senior politician M V Mysoora Reddy is all set to join YSR Congress Party at a very critical time. On the eve of Jagan Mohan Reddy's scheduled appearance before the CBI today, Mysoora chose to visit his Lotus Pond residence and held confabulations with him. As can be expected, the TDP immediately suspended Mysoora from the party.
The former Congressman, who joined TDP in 2004 following his irreconcilable differences with the then party leader Y S Rajasekhara Reddy, is expected to formally join YSR Congress Party on May 29 in the presence of Jagan's mother Vijayamma.
Mysoora has been keeping a distance from the TDP since he was denied a second term in Rajya Sabha by Chandrababu Naidu. There have been rumors that he was getting closer to Jagan in the past, but Mysoora had denied them.
Interestingly, TDP fielded Mysoora Reddy in the Kadapa by-election to take on Jagan in 2011.
Coming out of Jagan's residence, Mysoora said that the CBI inquiry against Jagan was lopsided and motivated. He claimed that those who could not stand the overwhelming support that Jagan was getting from the people framed him in the case.
Disclosing that he went to Jagan's residence on the latter's invitation, Mysoora said that Jagan had requested him to stand by him in this critical juncture. "I told him I am ready to do whatever I can for the party," he revealed.